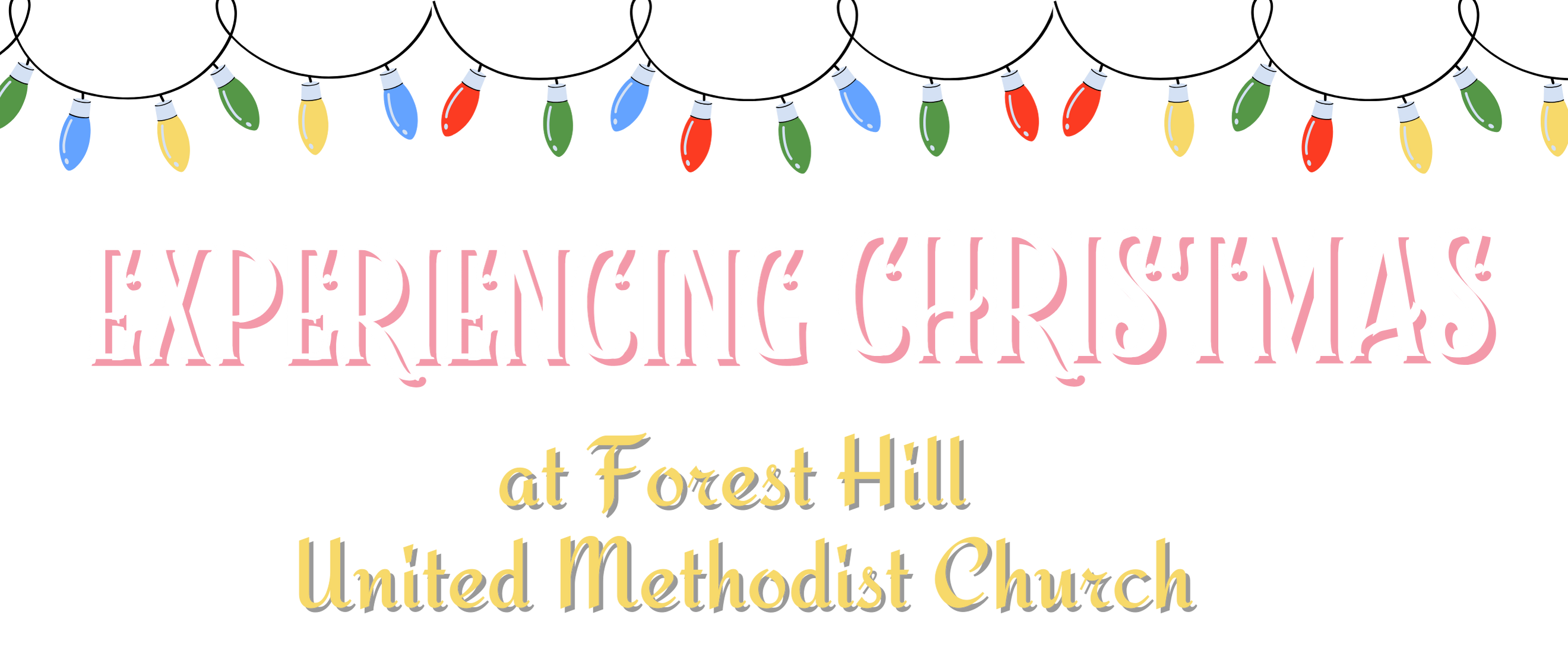 Sunday, December 10 | Second Sunday in Advent
9 a.m. – Contemporary Worship
10 a.m. – Small Groups all ages
11 a.m. – Traditional Worship with Special Musicians
Sunday, December 10 | Christmas Caroling
Help us spread Christmas cheer as we sing loud for all to hear!
2:30 p.m. – Meet at Forest Hill.
Saturday, December 16 | Holly Jolly Jamboree
Come join us for a morning of crafting, games, and food. We will meet in the Fellowship Center at 10:00 to kick off our Holly Jolly Jamboree.
Parents, this is a great opportunity to work on that Christmas shopping you may need to finish. Lunch will be provided.
Please let us know who's coming by filling out this form by December 12.
10:00 a.m. – 1:00 p.m. – Fellowship Center
Sunday, December 17 | Third Sunday in Advent
9 a.m. – Contemporary Worship
10 a.m. – Small Groups all ages
11 a.m. – Traditional Worship with Special Musicians
Monday, December 18 | Yuletide Piano Reflections
As you gather with family over the holidays, we invite you to join us for Yuletide Piano reflections on December 18th. We hope these sounds of the season will fill your hearts with peaceful, beautiful music.
6 p.m.
Thursday, December 21 | Longest Night Service
The Longest Night Service is a worship service that acknowledges the grief and pain that often comes with the seasons of Advent and Christmas.
5:45 p.m. – Historic Sanctuary
Saturday, December 23 | Prison Ministry Christmas Bag Packing
Come help spread Christmas Cheer to the inmates of Cabarrus County and other in need in the surrounding communities. The bag packing party is a highlight for many each year.
10 a.m. – Community Room
Sunday, December 24 | Fourth Sunday in Advent
10 a.m. – Covered Dish Breakfast in the Fellowship Center in lieu of Sunday School.
11 a.m. – Traditional Worship with Special Musicians
Sunday, December 24 | Christmas Eve
8 p.m. – Candlelight Worship in the Main Sanctuary
Sunday, December 31 | New Year's Eve Love Feast
10 a.m. – Sunday School
11 a.m. – Love Feast in Main Sanctuary
Alternative Giving
Remember the friends, family, and neighbors on your list while sharing God's love by helping others in need. Instead of purchasing a gift, make a donation to one of the missions on the list below in honor of your recipient.
This year you can do your Alternative Gift Shopping online, Sundays of Advent, or in the Church Office. Take a look at the link below for all of the many missions you can donate to or choose one of your own. With each donation you receive a card and a handmade ornament (limited supply of ornaments).
Online Digital Form
PDF Brochure
Project Agape
Project Agape is a ministry of The Western North Carolina Conference and North Carolina Conference of the UMC that provides aid to those in Armenia. In years past, Forest Hill, has supported Project Agape through their Christmas shoebox program. Since September, there has been intense conflict in the region resulting in the displacement of thousands of individuals. Many in Armenia were unable to take winter supplies at the start of the conflict. This has created a shift in their immediate needs. Project Agape is asking that individuals consider monetary donations this year. That way, Project Agape can more quickly provide warm comforters for the refugees for the upcoming distributions. This year, every $20 donated to Project Agape will support the acquisition and distribution of winter blankets to those in Armenia. While you are still able to build shoeboxes on your own and bring them to the church, our focus will be on providing winter aid. For more questions, please contact Pastor Justin.
ELF EXPRESS
Do you have Christmas cards that need to be delivered to church members? Well, you are in luck, the youth will deliver Christmas cards on Sundays. Drop off your cards in the box provided in the Narthex and they will be passed out during Advent. You can donate the cost of your postage to the youth group for this fundraiser.
We believe that God's love and grace extend to all people. Forest Hill United Methodist Church welcomes people of all ages, races, genders, nations of origin, physical or mental abilities, sexual orientations, and socio-economic statuses.
We hope that you will plan a visit with us!
Watch Sunday worship or follow us online