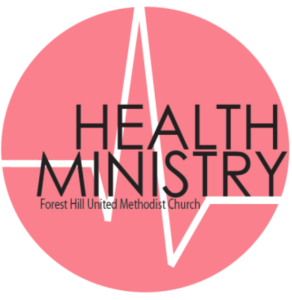 Your Faith Community Nurse at Forest Hill is Laura Tolbert. Her office hours are Mondays and Fridays from 9 – 11, and Wednesdays from 9 – 2. Please call or email with any questions, concerns, or ideas you may have about the Health Ministry here at FHUMC.
Health Ministry Opportunities at the church:
Health Ministry Team—if health is your thing, we'd love to have you on our Health Ministry Team, meetings are quarterly. Contact Laura for more information.
Musical Chairs Tuesdays at 11:00 in the Administration Building. Dancing, singing, praising and praying all while seated comfortably in a chair!
Caregivers Committee–if you're interested in visiting the shut-ins in our church, please come join this group, it's a true blessing to be able to spend time with them! If you know someone who needs to be visited, please let Laura know!
Blood Pressure Screens are quarterly in the Education Wing. Don't forget to bring a list of medications.
FHUMC Latino Clinic is monthly. If you are interested in volunteering, let Laura know and she'll get you all the details.
Medical Equipment and Supplies are available for loan, check with Laura before you buy!
Medication Assistance–Please don't go without your medications! Check with Laura, she can also help you enroll in a prescription assistance program!
For more information about volunteering or being a part of any of the programs contact Laura Tolbert our Faith Community Nurse.